ORE SLAG POWDER PROCESSING PROCESS
Grinding stage
The wet ore slag needs to be dried firstly before grinding the ore slag powder, and then continuously and evenly sent to the main grinding chamber for grinding. The ground fine powder is separated by classifier under the action of fan airflow, and the fine powder of qualified fineness enters the collection stage by the air outlet pipe.
Collection stage
The fine powder after grinding rises under the action of the fan air flow and is sent to the classifier for classification, and the fine powder that reaches the qualified fineness enters the pulse dust collector by the air outlet pipeline, and is separated out by the inertial force and directly falls into the bottom of the ash hopper. The remaining dust-containing gas enters the bag filtration area, with the extension of the filtration time, dust will accumulate on the surface of the bag, the solenoid valve will quickly flush compressed air into the bag, the dust on the surface of the filter bag will be vibrate, all dust will fall into the ash hopper, centralized collection and discharge.
Conveying stage
The finished ore slag powder collected by the explosion-proof dust collector is sent to the plate chain elevator by the screw conveyor, and then enters the finished product tank. After the tank dust collector is collected, the finished product is stored in the finished tank and clean gas is discharged.
Finished product stage
The ore slag powder obtained after grinding can be sent directly to the customer site for use, without additional downstream processing steps.
TECHNICAL SPECIFICATION OF ORE SLAG POWDER PROCESSING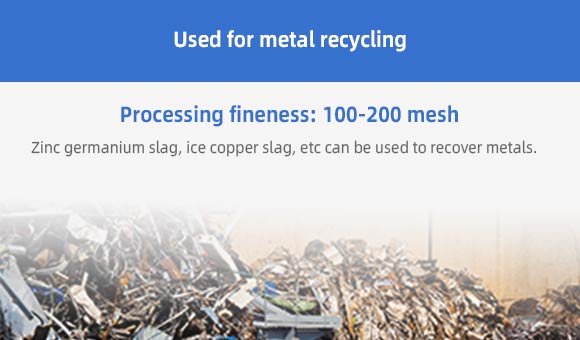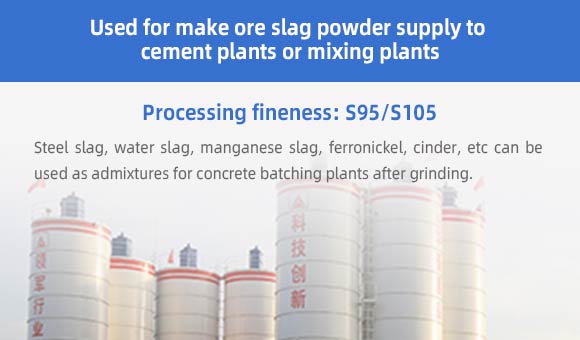 ORE SLAG POWDER PROCESSING AND GRINDING EQUIPMENT
According to the fineness of the feed of slag powder, moisture content, fineness of the finished product, application and other factors, Shibang Group can help customers reasonably choose the grinding and powder selection process, and determine the type, model and quantity of the mill according to the needs of production capacity and other needs.