What is the difference between Raymond mill and ball mill, which kind of grinding effect is better?
Raymond mills and ball mills are commonly used in mine milling equipment and are used to grind materials. So, do they have a difference? Which grinding effect is better? Below, SBM will review you briefly.
First of all, the two devices have different structures; the raymond mill complete structure is composed of main machine, analysis machine, pipeline device, blower, finished cyclone, jaw crusher, bucket elevator, electromagnetic vibrating feeder, electronically controlled motor. And so on. The Raymond mill main body is composed of a frame, an inlet volute, a blade, a grinding roller, a grinding ring, a casing and a motor. The ball mill is composed of the main part of the feeding part, the discharging part, the turning part, the transmission part (reducer, small transmission gear, motor, electric control). The hollow shaft is made of cast steel, the inner lining can be replaced, the rotary large gear is processed by casting hobbing, and the barrel is embedded with wear-resistant lining, which has good wear resistance.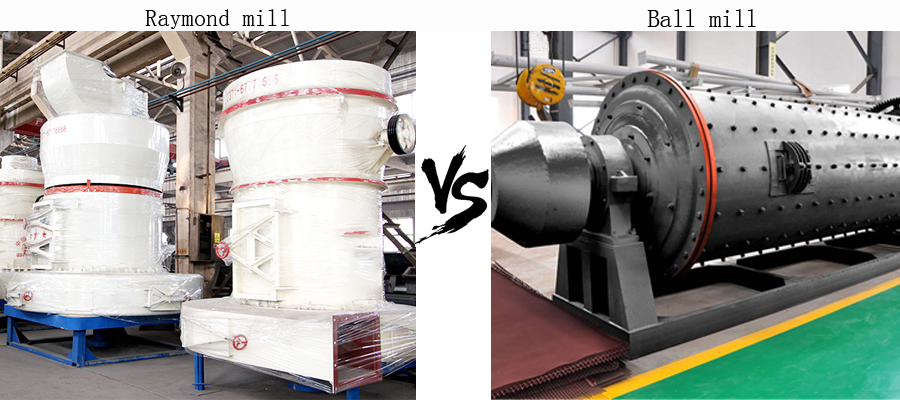 Secondly, the application range of the two kinds of equipment is also different: Raymond mill is widely used in the grinding of mineral products in the fields of metallurgy, building materials, chemicals, mining, etc. It is suitable for processing various types of Mohs hardness below 7 and humidity below 6%.
Non-flammable and explosive materials, the finished product can be adjusted in the range of 80-400 mesh, and some materials can reach up to 600 mesh. Through the interaction of the analyzer and the fan, the requirements of different users can be met. The ball mill is suitable for grinding all kinds of medium hardness ores and other materials. It is the key mineral processing equipment after the material is crushed and then crushed. It is widely used in building materials, chemicals, cement, silicate products, new building materials, refractory materials, Fertilizer, black non-ferrous metal dressing and glass ceramics production industries. According to the processing technology, it is divided into two types: dry and wet.
In fact, there are many similarities between the two, but there are also different places such as the above. Therefore, when selecting the grinding equipment, the physical properties of the materials, the requirements of material grinding, operating conditions, production environment, mechanical energy consumption and working efficiency should be integrated. And a variety of factors, such as infrastructure investment, can be determined after comparison and screening.